We Offer Pump Station Maintenance & Repairs For Commercial & Industrial Clients
As a business owner, your property's proper function is one of your top priorities, especially when it comes to its plumbing.
Without regular maintenance, issues that were once minor can turn into full flooding, leading to costly repairs.
At Absolute Plumbing & Drain Cleaning Services Inc, we specialize in commercial plumbing and proudly service businesses around the Central Virginia areas.
No matter if you need help with plumbing maintenance, have some repairs that need to be made or are in the midst of a dire plumbing emergency, our experienced industrial team is there for you around the clock.
Common Plumbing Issues for Businesses and Industrial Complexes
Even when you have regularly scheduled commercial plumbing maintenance performed, problems still arise that need to be taken care of right away.
It doesn't matter if you're in an office building with high traffic or a rarely used industrial park, there are several plumbing issues common for businesses, including:
Sewer odors
Faucet leaks
Clogged toilets
Clogged drains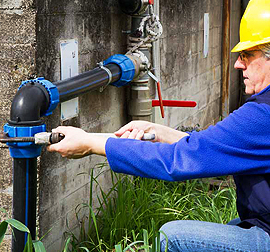 What does this all mean?
Sewer odors: Irritating odors coming up from your pipes generally stem from a condition that causes the trap to dry out.
Faucet leaks: Because your commercial faucets are used more frequently than home fixtures, wear and tear on washers, seals and O-rings often lead to unsightly dribbles.
Clogged toilets: If fixing the clog with a plunger isn't enough, it is usually able to be remedied with the help of an auger or snake.
Clogged drains: The most common clogged drain is usually found in the kitchen and is often due to greasy residue and foreign objects becoming stuck, both of which can be removed with our help.
Call Today for a Free Consultation!
We are more than happy to give advice on which solution is most suitable for your needs, depending on your Plumbing Services. Why not ask us to view your property and discuss the various options with you now. Our advice is free!
For over 20 years, Absolute Plumbing & Drain Cleaning Services Inc has given our all to Central Virginia areas. From commercial to residential plumbing, our company offers experienced, friendly contractors to complete any job. Give us a call at 434-977-6989 today and find out more about what we can do for you!