Central Virginia's Most Trusted Company for Septic Tank Installation
With almost 25 percent of American homes on a septic tank system, the need for quality septic system installation, maintenance and repair is extremely high.
Septic tanks are a simple way to take wastewater from your home and break it down naturally underground and in the soil without the use of sewer systems.
These types of wastewater breakdown arrangements are mostly found in rural areas where homeowners don't have access to public pipes.
Absolute Plumbing & Drain Cleaning Services Inc provides services for all septic system types in the Central Virginia areas.
Common Drain Field and Septic System Types
The most common type of septic system design is the underground septic tank.
While that is the most frequently used, there are several different leach field and septic tank types available today:
Anaerobic septic tanks
Aerobic systems
Mechanical filtration
Hybrid systems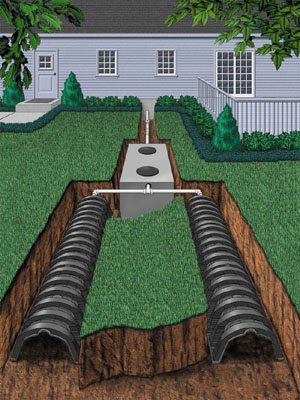 What does this all mean?
Sewer odors: Irritating odors coming up from your pipes generally stem from a pressure problem that allows your U-bend to dry out and the stench to rise.
Anaerobic septic tanks:The simplest option with the least maintenance, this method takes waste down to the tank underground where bacteria eat away at it until it's gone. This option requires no oxygen but is more sensitive to household chemicals.
Aerobic systems: While this option requires more maintenance, the bacteria's use of oxygen to eat away waste allows it to degrade household cleaners and human waste better than the anaerobic option.
Mechanical filtration:This option uses a filter to strain out any foreign objects that could ruin the structure, but it isn't able to break down the wastewater on its own.
Hybrid systems:A combination of the aforementioned types, this septic system design uses both aerobic and anaerobic treatment as well as media filtration to provide the highest wastewater treatment levels.
Our company proudly installs and maintains all of these septic system types as well as the most common drain fields: finger, gravity, dry well and chamber.
Find Out More About Our Services Today
For over 20 years, we at Absolute Plumbing & Drain Cleaning Services have given our all to the Central Virginia Area to ensure that their septic field practices keep the surrounding environment clean and families healthy.
From septic tank replacement to septic tank cleaning, we truly do it all.
Schedule your free consultation today by calling 434-977-6989.